Historic Foreman-Roberts House Museum
---
The following article, which will be revised, reflects scholarship prior to 2007(*). The Carson City Historical Society has received grant funds from the City for new and bigger signage on the Roberts House. The historical register has been changed due to new/old information and research done by Guy Rocha. The house was initially built by Solomen Foreman, a surveyor, in 1864, and it was sold to James D. Roberts in 1867. The house was moved to Carson in 1874, remaining in the Roberts family.
---
The Historic James Doane Roberts House
Constructed in Washoe City in 1859
Now located at 1207 North Carson Street, Carson City, Nevada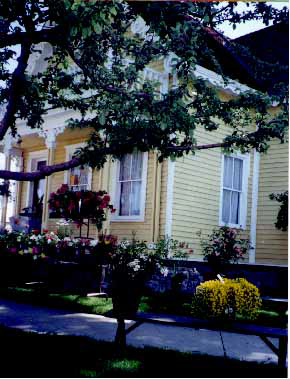 This structure is a fine example of Gothic Revival architecture. In 1873 it was moved to Carson City on the Virginia and Truckee Railroad(*) and by oxen with logs.
James Doane Roberts was co-owner of the Roberts and Corbett's Saloon (across the street from the V&T depot).
Hattie was the granddaughter of Calvin Hale, founder of the Hale and Norcross mine in Virginia City. Hattie, a direct descendent of American patriot Nathan Hale, was a former employee of the State of Nevada.
Thurman Roberts willed the property to the children of Nevada, and it became the property of Carson City (then Ormsby County). The Public Works Department planned to raze it to form a small park. The outcry of the citizenry brought about the creation of the Nevada Landmark's Society which enlisted the aid of the local citizens to save it. (On August 20, 2002, Nevada Landmarks became the Carson City Historical Society.) The City Council agreed to a year's extension to restore and stabilize the structure. A stone foundation was installed with the aid of anyone who was interested, including state prison inmates. Others turned out to paint and refurbish the house, with many thousands of hours of volunteer services and dollars expended.
The Nevada Landmarks Society (now the Carson City Historical Society) has raised thousands of dollars for the restoration of this fine historical structure.
---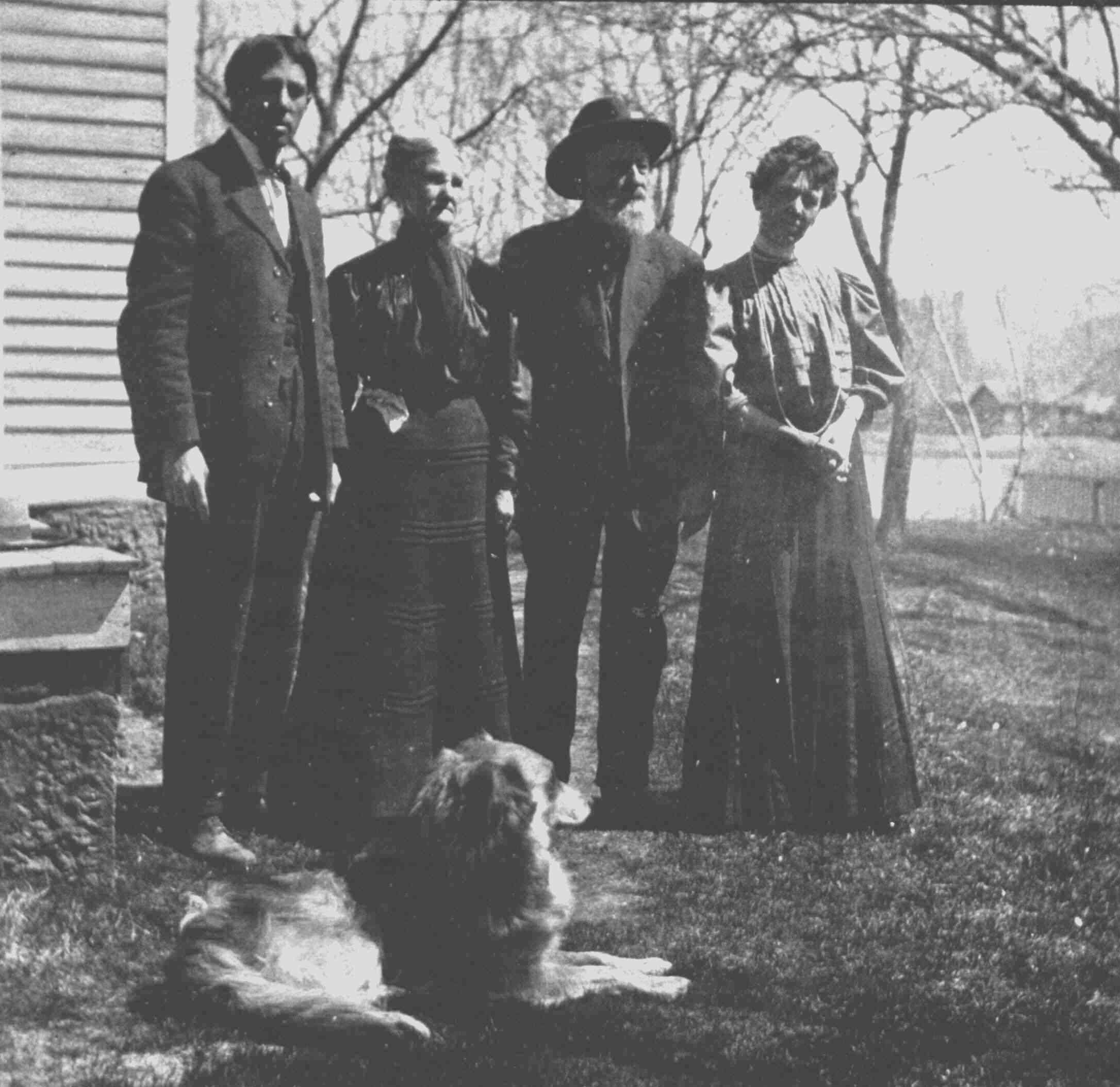 Pictured above are Thurman, Annie, James, and Josie Roberts (and faithful dog) in front of their Roberts House Home in Carson City, Nevada. This photo was scanned from a blue print photo from the collection of Noreen Humphries.
Additional information about the Roberts family can be found at the City's website by clicking here.
---
Additional link to the city government's information about the house and surrounding park.
Take a peek at some of the charming rooms and people associated with this historic building.
---
The Foreman-Roberts House Museum is open by appointment only and for special events sponsored by the Carson City Historical Society (currently closed due to fire damage clean-up). To tour the Foreman-Roberts House Museum, please call Paula at 775-887-8865 for an appointment. Cost is $5 per person. View Map for the Foreman-Roberts House
---
This page last updated 12/17/2017 (further revisions needed).